We know it's Santa's busy season…but our goats on the Gold Coast have also been bustling in the workshop! YGD's HQ, located in Queensland Australia, was commissioned to provide eight of the twelve icons on display at AMP's Pacific Fair shopping center's "12 Days of a Gold Coast Christmas". Contrary to the traditional song, these icons are designed Aussie style! I can't think of a better way to countdown to Christmas. Palm trees and 80 degrees? Yes please!
The twelve Gold Coast themed icons, located within the shopping center, are as follows: One Thousand Wishes in a Bottle; Two Golden Pairs of Sunnies; Three Koalas in a Pear Tree; Four Luxury Gift Boxes; Five Golden Rings; Six Bathing Beauties; Seven Golden Ice Creams; Eight Shimmering Shells; Nine Golden Beach Umbrellas; Ten Bouncing Beach Balls; Eleven Diving Swans and Twelve Prancing Poodles (note: YGD's designs are in yellow). Talk about fun and festive! Check out the video here too!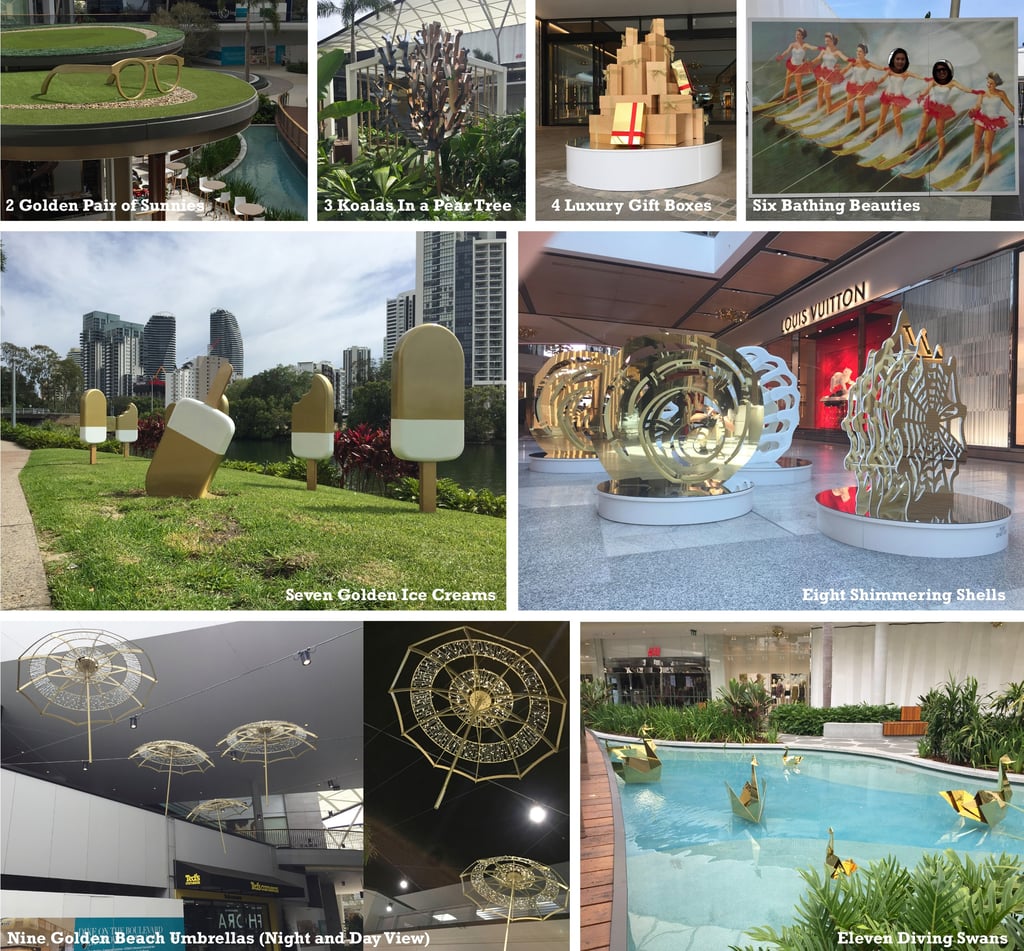 For some fun facts on the installation, see below:

Two Golden Pairs of Sunnies: Watch out Rayban…you have some stiff competition! YGD's sunnies might not be polarized but they ARE painted with glitter.
Ÿ Three Koalas in a Pear Tree: Plywood is perfectly paired with silver mirror aluminum to create cutouts that cue Christmas cheer.
Ÿ Four Luxury Gift Boxes: Yes, YGD giftwraps too! Our gift boxes, complete with red and gold ribbon, are positioned on plinth bases and fabricated from aluminum.
Ÿ Six Bathing Beauties: With cut outs to snap some selfies, surfs up for all visitors! We printed the image on three plywood boards supported by welded aluminum.
Ÿ Seven Golden Ice Creams: You scream…I scream…we all scream for Yellow Goat's ice cream! We designed three variations: a full, a bite and a melted pop.
Ÿ Eight Shimmering Shells: These showstoppers (3 shapes total!) are constructed from gold mirror composite and opal acrylic.
Ÿ Nine Golden Beach Umbrellas: Standing 5'-0" (1500mm) high, catch some shade under these powdercoated aluminum sculptures.
Ÿ Eleven Diving Swans: Built from gold mirror composite and alanod, these swans are sure to sparkle from the gold coast sunshine!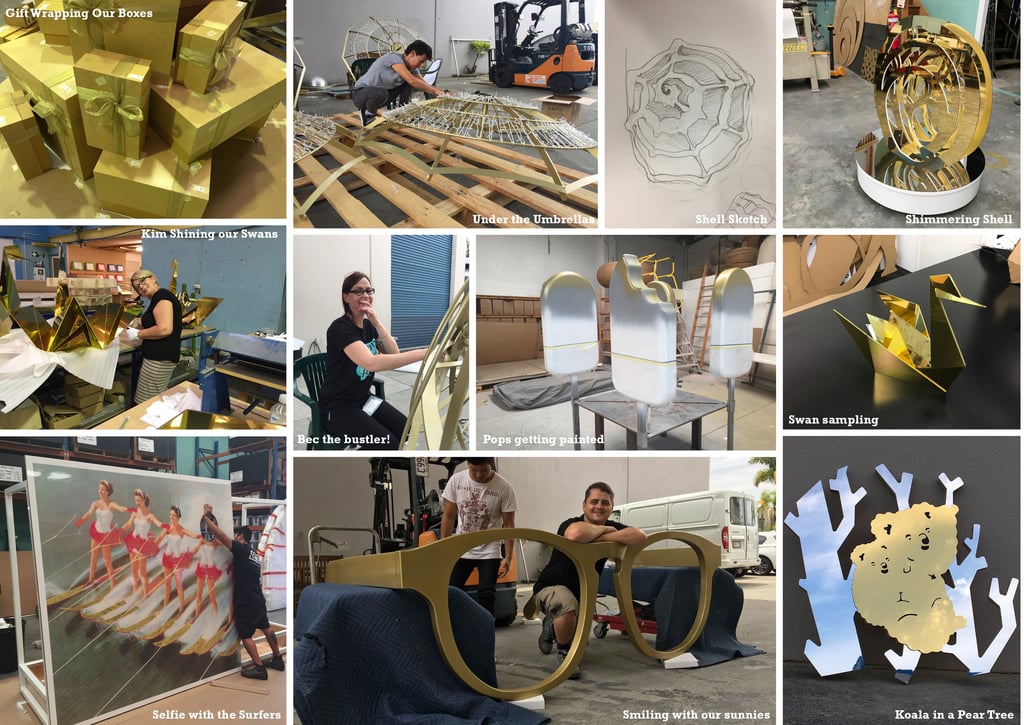 To top it off, we also built two big beautiful lit bows that are suspended on the outdoor facades of the shopping center. We zip-tied laser cut alanod shapes to a steel mesh frame and welded a steel box section to ensure these do not blow away in the ocean breeze!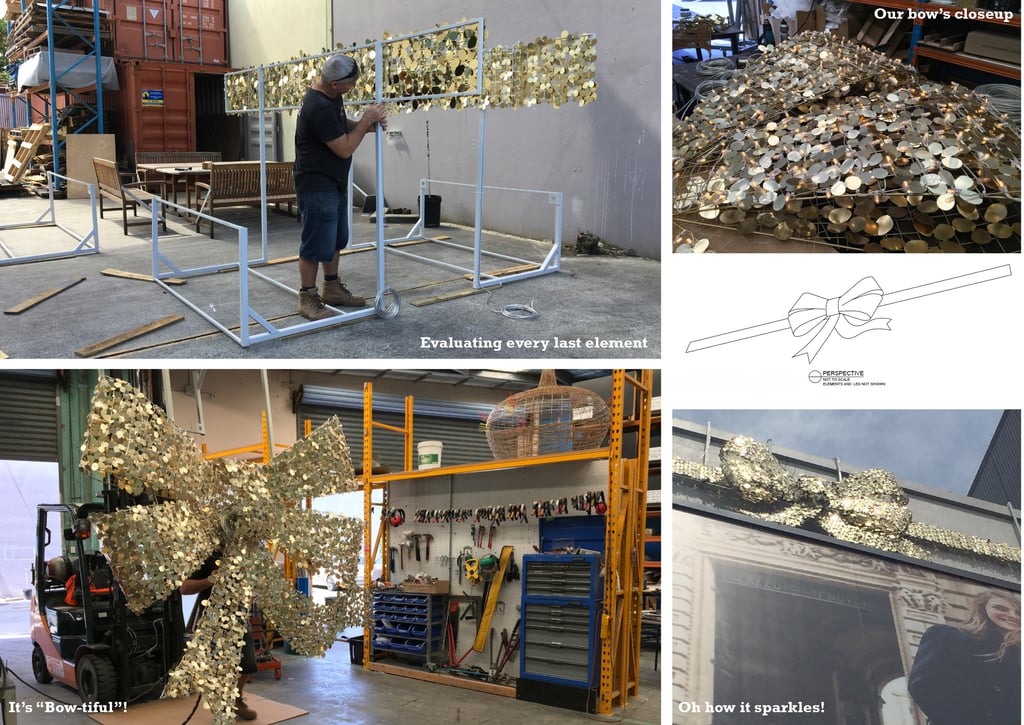 I think we can all agree that YGD is qualified to collaborate with Santa's elves next year! Hint: after you've visited all twelve icons, head over to the Arcade concierge to collect a reward voucher. Tis the season to be jolly and eat free Ben & Jerry's!
PS: although the twelve prancing poodles were completed by Academy Award Winner John Cox (he created the animatronics for the movie "Babe!"), my own goldendoodle (she's 75% poodle!) could easily have stepped in for this role…don't you think?! From Coco and everyone at Yellow Goat Design, Happy Holidays!
-Nicola Casale, Design Manager | nicola@yellowgoatdesign.com