From 0-60: Auto is Amping Up Their Interiors and Lincoln is the Innovator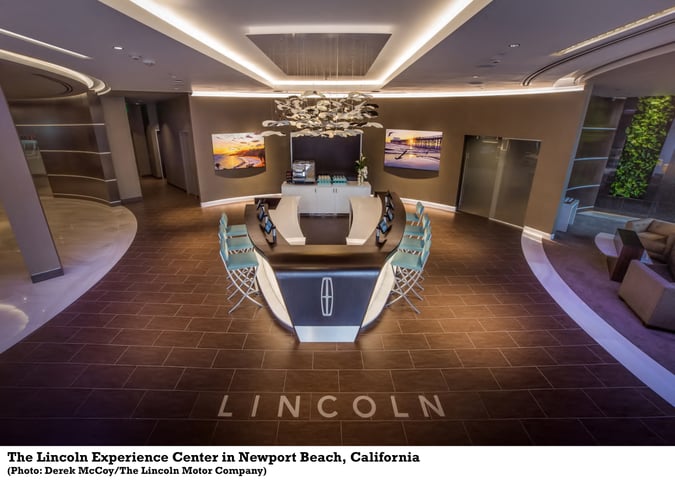 Lincoln Motor Company just opened its first 5,200-square-foot experience center and let me tell you…it's a force to be reckoned with. Located at uber-luxurious Fashion Island in Newport Beach, California, the Lincoln Experience Center shares retail space with the likes of Louis Vuitton, Neiman Marcus and SoulCycle (for any of you that know me personally…this is my idea of a good time). Lincoln took note and seized the opportunity to supply their customer base with an introduction to "The Lincoln Way", designing a space with sleek architectural accents and a stylish interior.
The space is intended to provide clients with a more personal, casual hub for those new to the brand. Yes, you can see the current collections in-person but there is SO much more to this concept. Want to customize your ideal vehicle? No problem. How about taking a class (cooking demo, anyone)? Lincoln is the hostess with the mostest. The brand is also offering (wait for it…) "Date Night" where you can take any vehicle around the block or FOR THE WEEKEND! #lincolnforthewin
So where does Yellow Goat come into the equation? I know what you're thinking: Yellow Goat and Lincoln Automobile are an unlikely alliance. Quite the contrary, my friends! We may not have Matthew McConaughey on our team (#brilliant, by the way)...but we DO have Conrad Johnsson, our Australian Design Manager (similar features, don't you think?)!

YGD and Lincoln share quite a few core commonalities, which is why they chose us to design and incorporate a #clutch fixture to suspend above the focal connectivity bar. Exhibit A: Our "Bagels", made from aluminum composite and measuring ø1'-4" each. We collaborated with the Lincoln Team and Cityscape Architects to create an installation that spans 11'-0" long x 6'-0" wide with an overall drop height of 4'-6". The ceiling plate is painted Benjamin Moore "Super White" in high gloss with twenty-two 1.2W LED bi-pin droppers scattered strategically throughout. The fixture is well suited to the brand's aesthetic: luxurious, engaging and seamless.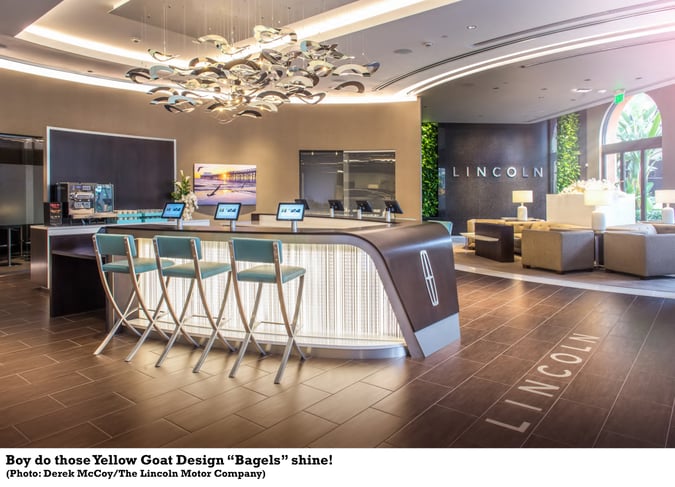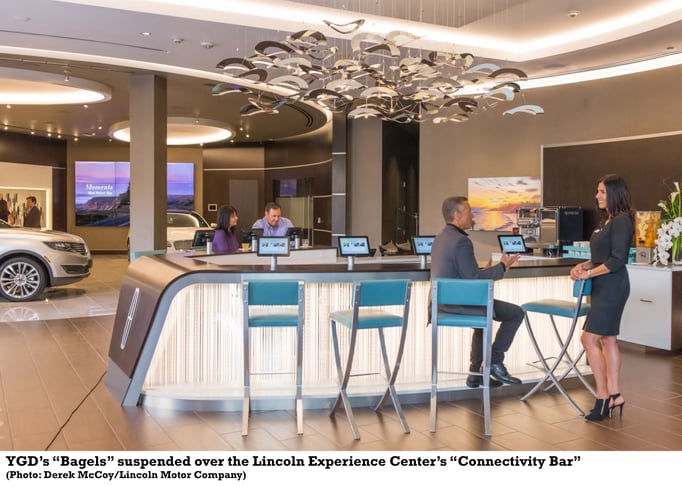 Lincoln's Experience Center drives home (literally!) a few points that YGD can totally attest to, according to Laura Schreffler with Haute Living NYC (see article here): 1) taking the designs for a spin; 2) customization; 3) luxury offerings and 4) the story. Here at YGD, we will send you samples (so you know what you're getting!), customize nearly anything, fabricate the most high-quality products and design lighting, screens or kids play that tells a story, engages your client and enhances their experience within the space.
If you are one of the 16 million visitors to this shopping destination, pop in and let Lincoln pull out the red carpet (and don't forget to snap a pic of our "Bagels" for Instagram w/ the hashtag #lecnewportbagels)! If you're lucky- you might run into McConaughey himself!
-Nicola Casale, Design Manager, nicola@yellowgoatdesign.com
Discover the Lincoln Experience Center at http://lincolnexperiencecenter.com/ and watch the video here (where you see YGD's "Bagels" front and center!).