Neiman Marcus is Starry-Eyed for YGD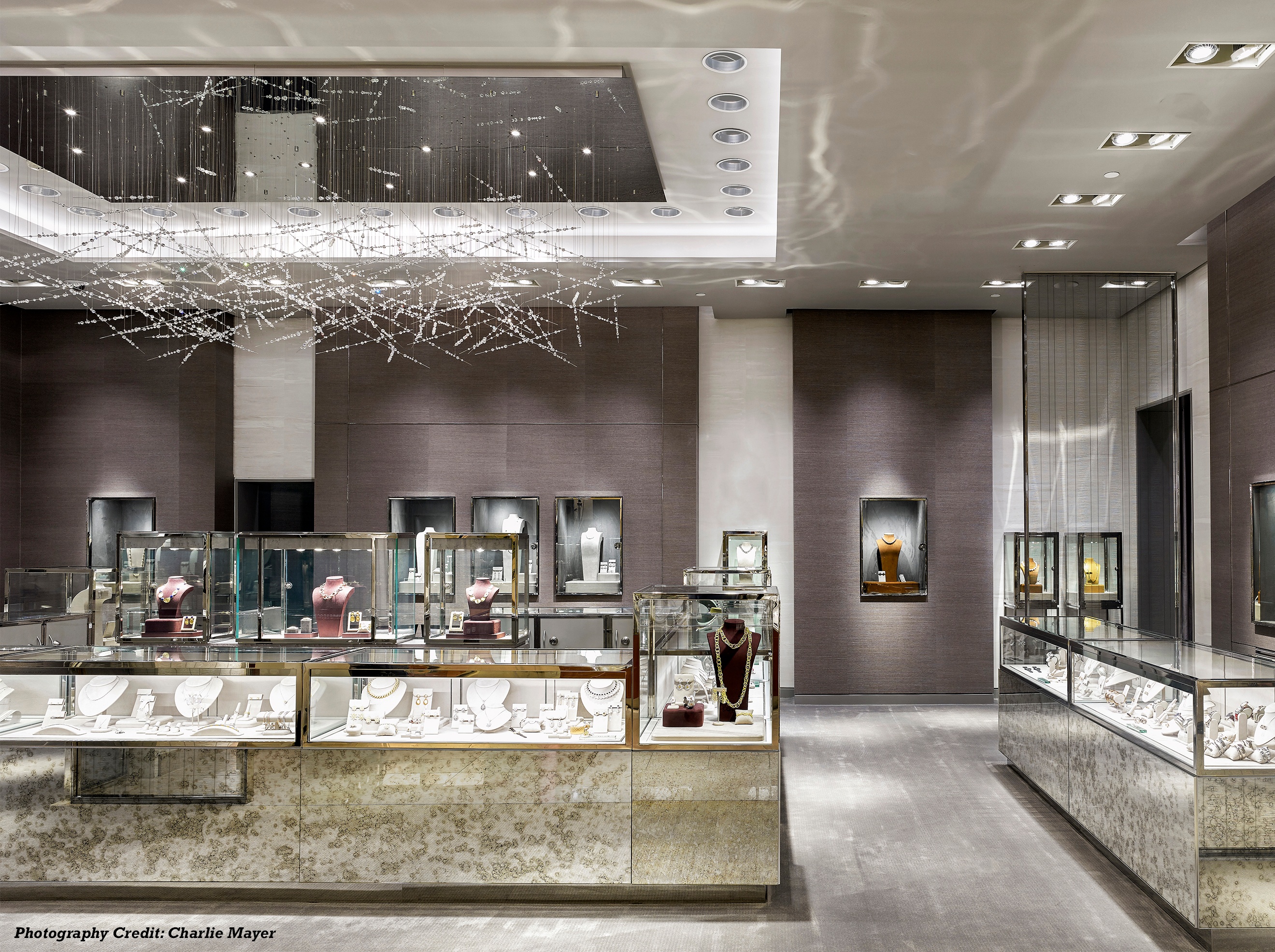 "I dreamed all my life of the perfect store for women. Then I saw Neiman Marcus, and my dream came true". – Edna Woolman Chase, editor of Vogue (1936). We couldn't agree more, Edna. Our dream came true when Neimans and FRCH Design Worldwide asked us to collaborate on an installation at the White Plains, NY location. Let me introduce you to YGD's "Shooting Stars" design, suspended and sparkling above Saint Laurent, among other designers, in the exclusive jewelry department.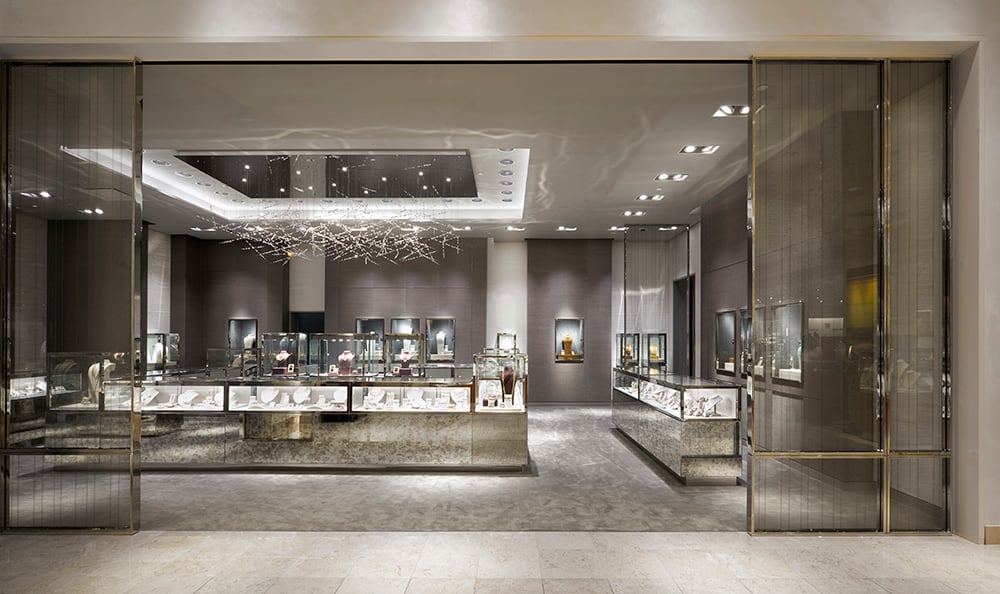 A shooting star is defined as a visible path of a meteoroid as it enters the atmosphere, becoming a meteor. It is fitting that this particular design was chosen given that the brand entered the retail 'atmosphere' in 1907 on an initial investment of only $25,000.00. Herbert Marcus, his sister Carrie Marcus Neiman and brother-in-law Al Neiman founded the iconic American luxury department store in Dallas, TX after turning down an opportunity with Coca-Cola (!). Neiman Marcus has been a breakout star ever since.
The trio created a brand of firsts: first loyalty program (InCircle), first in-store gift wrapping service and first Christmas catalogue featuring the most extravagant fantasy gifts. Not surprisingly, it was reportedly Coco Chanel's favorite place to shop. She is so tres chic, no?! Lucky for Neimans, our taste is also fabulous and our designs are the first of its kind. It's no wonder the stars (and our brands) aligned.
Our custom light fixture is built with 2700 crystals suspended on 180 polished stainless steel rods and arranged to form criss-crossing patterns, which are illuminated via LED downlights in the mirrored ceiling plate above. Measuring 12'-6" L x 6' W, the elements occupy a height of 3'-0" and form dense clusters that easily capture clients' attention from clear across the store.
Go ahead ladies and gents…make a wish on our "Shooting Stars" at Neimans (and you just might end up with diamond or two!). Life's short…frost yourself.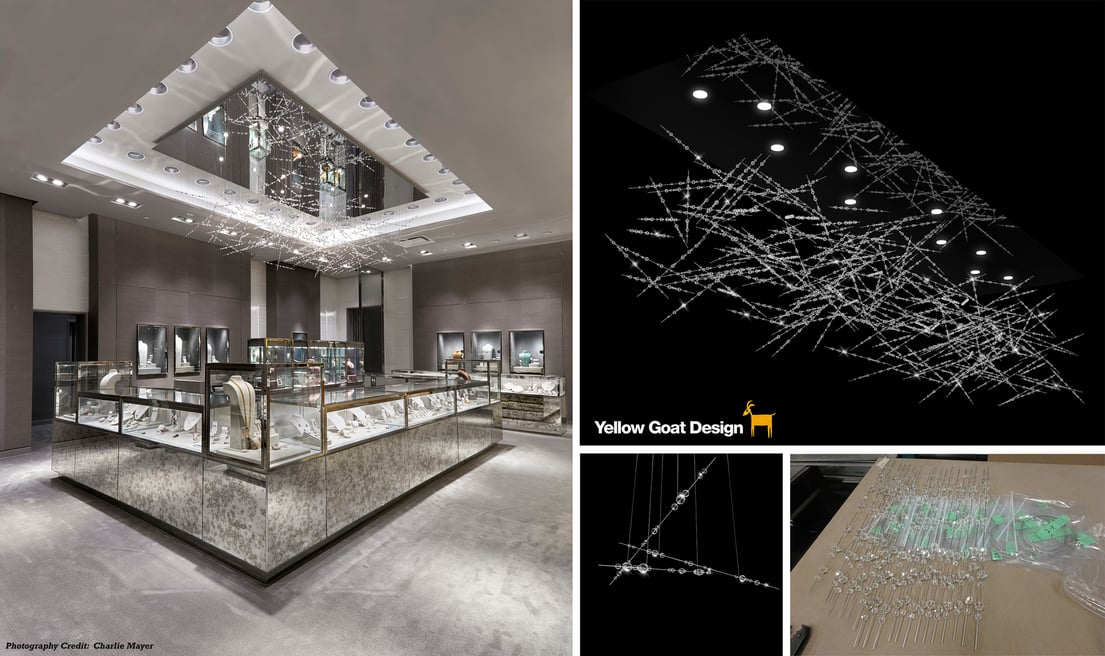 -Nicola Casale, Design Manager | nicola@yellowgoatdesign.com
Visit this Neiman Marcus location at The Westchester, A Simon Mall here.
Also, be sure to view the incredible portfolio of FRCH Design Worldwide, a top design and architecture firm, here: http://frch.com/us/