Put to the Test, Nominated as the Best: Introducing YGD's "Nest"!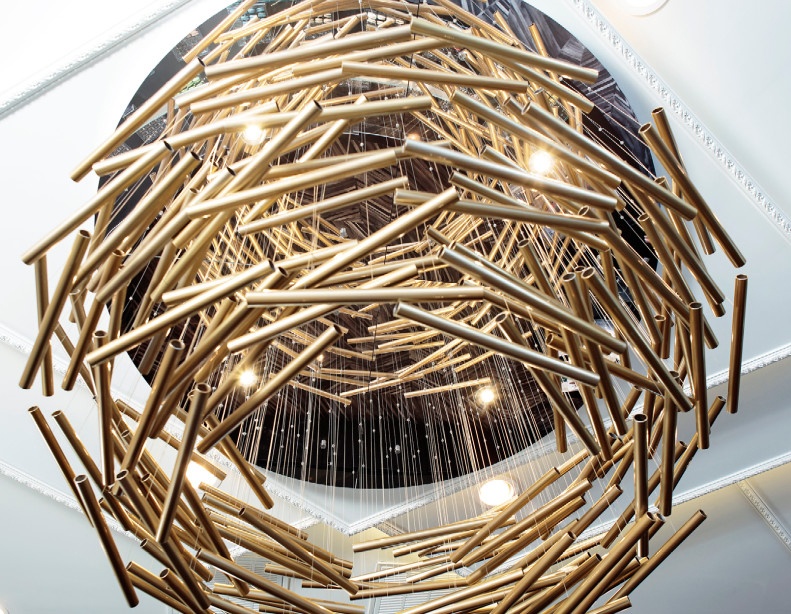 We don't mean to brag (or maybe we do), but with several Interior Design "Best of Year" nominations and awards, we like to think of ourselves as true designers and innovators of custom lighting design.
Our "Nest"- an Interior Design "Best of Year" Finalist - is a favorite of our clients and was recently installed in a gorgeous new bakery project located in The Woodlands, Texas. It is NOT your typical bakery… it's a bakery that sells colorful and highly decadent macarons (yum!). The project, Macaron by Patisse, has multiple locations and was designed by Nina Magon and her team at Contour Interior Design.
Nina came to us with a vision, a budget (who doesn't!) and a tight timeframe (looking at you retail projects!). We worked closely with Nina to identify and design the perfect fixture based on the bakery's Parisian aesthetic and glam accents. We landed on our tried and true "Nest" that embodied all of the design requirements of the space. Nina really wanted the fixture to be fabricated in brass but unfortunately, the budget did now allow (most don't!). Have no fear…YGD to the rescue! We identified the perfect Tiger Drylac RAL color that emulates a brass finish. We powdercoated the aluminum tubes and suspended them from a mirror aluminum composite ceiling plate lit by dimmable LED downlights. Très chic!
The "Nest" holds its own at ø6' x 2'-3" H and is definitely the centerpiece suspended over the decorative macaron bar. As with all of YGD's custom lighting fixtures, it is for sure a show-stopper (as in…stop and order these adorable macarons!).
Thank you to Nina Magon and her team at Contour Interior Design for a super successful collaboration! #squadgoals