The Low Down on YGD's Locations
Hey Yellow Goat Groupies! Nicola here (your US Design Manager). I get this question a LOT: where the heck are you located?! So confusing, I know. Thought I'd take a moment to clear it up. This will be short and sweet… stay tuned for a longer blog on our design process next week!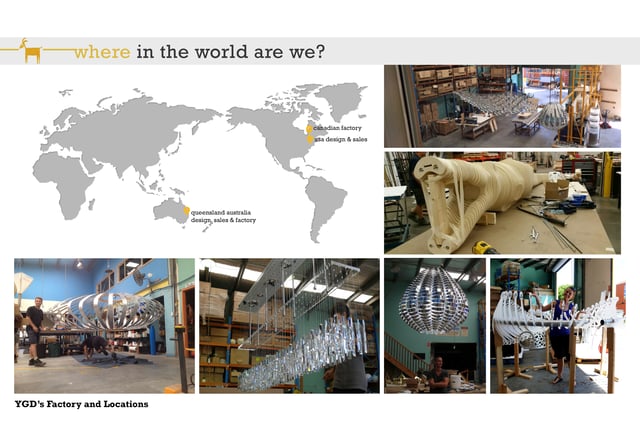 Are you in the US? I thought you were in Australia?!
The answer is YES and YES. Our headquarters is located in Queensland, Australia (Southport to be exact). It includes not only a design and sales office but also a full factory. Picture an exotic location with palm trees and a beach...the gold coast makes a pretty sweet place to design and create!
For all of our clients in the Americas, we offer a design & sales office located outside of Philadelphia. All of our American jobs are fabricated in YGD's Canadian factory in Cambridge, Ontario (about an hour from Toronto).
Bottom line: we are reachable 24/7 and are truly a worldwide brand.
So let me get this straight…you have two factories?
Yes again (#nailedit)! Two factories for one fabulous company. This allows YGD to reduce lead times for our clients and fabricate in the location that makes most sense for the project. We pride ourselves in hiring factory employees from both local Aussie and Canadian areas. All of our designs are custom and built to order so these talented workers are challenged daily to build and bring products to life that we (AND our clients!) have dreamt and sketched.
We fabricate everything by hand (with the help of modern technology, of course!). We may be old school but we are also very efficient. We will build what has never been built before.
You mention a design office. Are you designers? I thought you were manufacturers?
We are manufacturers but first and foremost: we are DESIGNERS. We have a full catalogue of products (have you checked out our website?) that we design in-house at YGD. You heard it here: we can (and will!) take on the design challenges that others are no match for. We have a full catalogue of lighting, screens and kids play designs that will blow your mind…but by no means does this represent the full extent of our capabilities. For your next project, who ya gonna call? GOATbusters (sorry I couldn't resist).
Want to work with the best on your next project? How about getting onto our newsletter list? Email me at nicola@yellowgoatdesign.com