The Trigonometry behind a Beach House in Trigg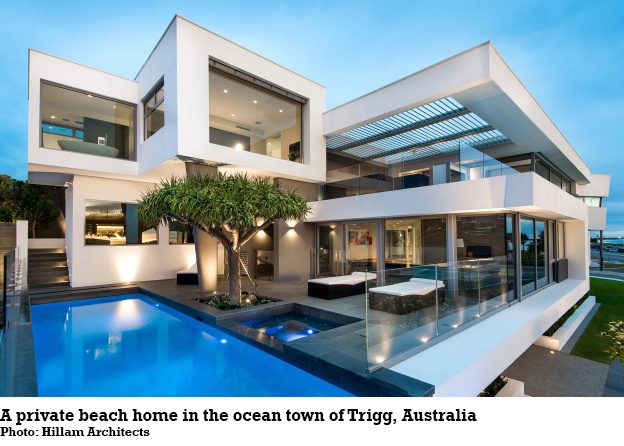 Don't (web) surf away- this is not a geometry lesson. Instead, it IS a lesson on how a beach house can benefit from an array of triangles…and how Yellow Goat Design will nail the right angle for your project (pun intended)! Situated in the ocean town of Trigg outside of Perth in Western Australia, a family commissioned Hillam Architects to design what the architect calls "A stairway to beachside heaven". The private residence, located on a prominent corner, is inviting for both friends and fanciers.
The multi-level design features sophisticated interior detailing, finishes and furnishings to create a tranquil getaway (black limestone flooring? yes please!) Upon entering, an expansive hall greets guests with a floating staircase…but the real star of the show is YGD's "Qbik" suspended above. Sorry stairs…can't show us up. Our design is a lit sculpture comprised of triangle bases that form profound pyramid shapes. Overall dimensions shown are approximately 20'-0" long x 8'-6" wide (5853 x 2600mm).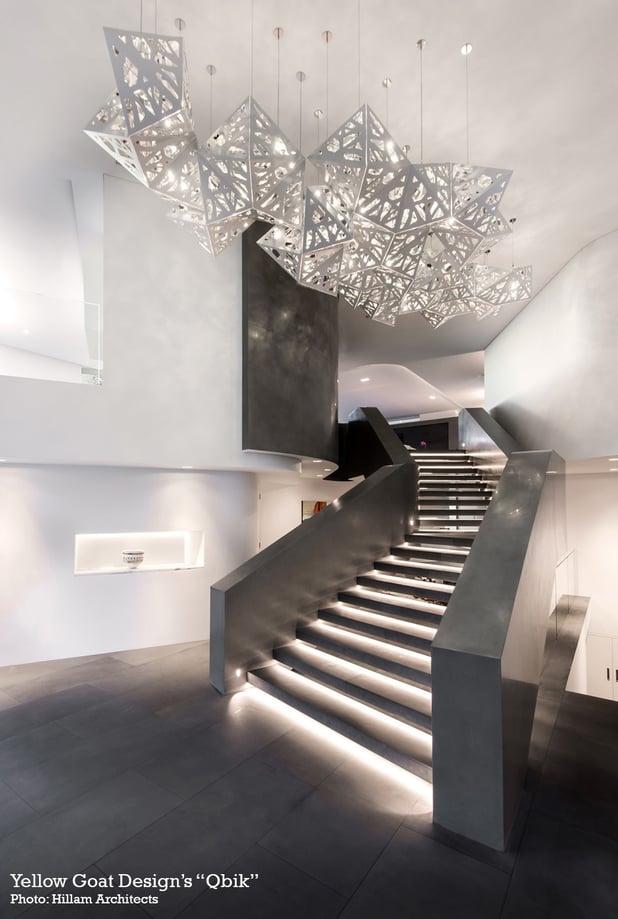 The fixture glows from within via LED bi-pins that reflect against the mirror aluminum interior finish. The outer finish is made from matte white powdercoated aluminum. The laser cut shape was left to our discretion but can be customized (as with everything we do!). Measuring 2'-6" x 1'-6" x 1'-6" (802x463x463mm) each, the sculpture was designed and fabricated with a total of 38 modules that consist of two folded panels each joined with clear acrylic. It suspends approximately 3294mm above the staircase…can't block that 180 degree ocean view! Our sculpture also pulls in a subtle pattern that contrasts against the minimal palette throughout the space.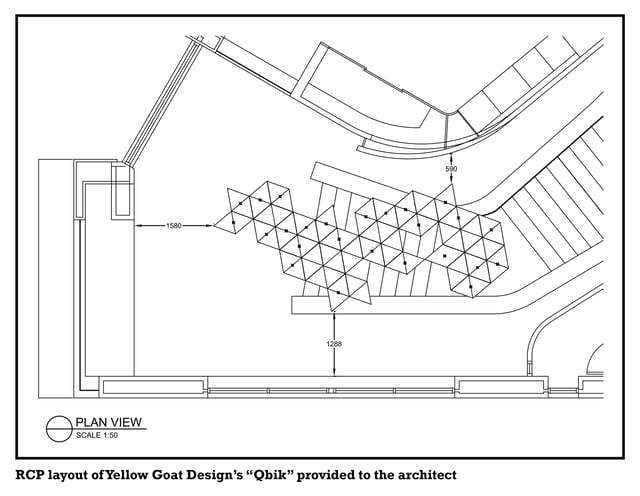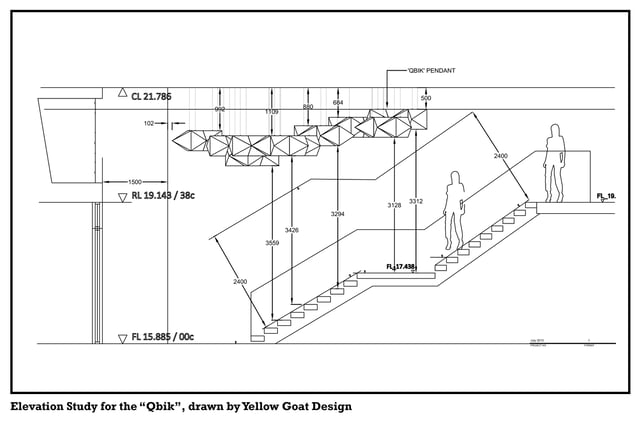 Given the natural eco-conscious setting, the design also required that YGD meet sustainability guidelines. The direct sunlight (love/hate relationship there!) creates heat gain that needed to be offset so we chose to incorporate LEDs to minimize the heat output. The color temperature shown is warm and approximately 2700k.
Thank you to Hillam Architects for a fantastic collaboration. Quite the beach house…I think I'll stay a while.
-Nicola Casale, Design Manager, nicola@yellowgoatdesign.com
See more photos from this project here.