Wanna See a WOW Sculpture? Visit Art Van Furniture!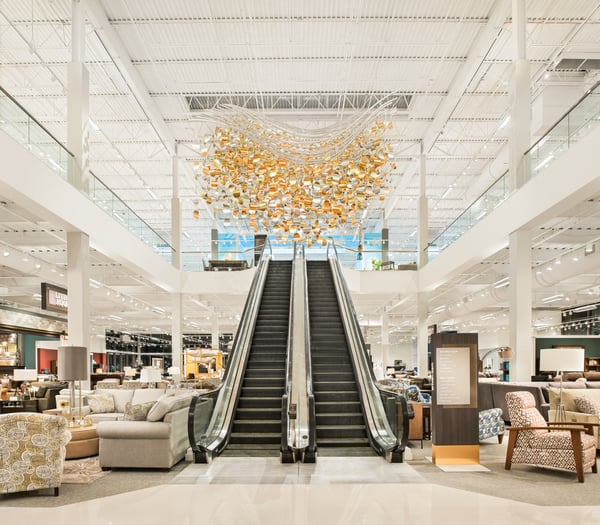 Retailer Art Van Furniture rolled out the red carpet for their new flagship located in Canton, Michigan, U.S. It is the first furniture store in Michigan to be built 'from the ground up' in two decades(!!) and warranted a 'WOW' sculpture to suspend over the feature escalators. Well friends…it goes without saying that Yellow Goat is the go-to for your 'WOW' moment.

Art Van Furniture operates 181 locations in 9 states and carries collections designed by Nigel Barker, Joanna Gaines and Cindy Crawford…to name a few. With celebrity collabs of this nature, YGD knew that the showroom needed some serious swagger. Our designers built upon the space's contemporary concept and created a crazy cool sculpture that stops shoppers in their tracks!
The two-story, 70,000 square-foot space had the height for something curvaceous. YGD's design, measuring 26' x 12', is built from hand-rolled aluminum and glass elements suspended from 20 satin finish, curved tubes. The elements vary in finish and are comprised of mirrored silver, gold and brass for extra sparkle and reflection.
The President and CEO of Art Van Furniture stated it best: "This magnificent Michigan showroom…is a must-visit destination for anyone who wants to furnish and beautify their living spaces…Prepare to be wowed". We couldn't agree more.

Visit Art Van Furniture here
Interested in something similar? Contact us now