Yellow Goat Design: Who Wore It Better?
Yellow Goat is known for its creative and overly unique designs. Our team of bold thinkers take risks and reap the rewards of being daring and exceptional in the design industry. Our clients know, and have come to expect, that our ideas are different and set their projects apart from the competition.
Cheap Imitations
Unfortunately, not everyone in the design industry is as respectful and appreciative of original design. Over the last several years, Yellow Goat Design has noticed an increasing amount of knock-offs and replicates by other design companies. The big question is: are they fooling anybody? As the original designers and manufacturers of these fixtures, we can definitely say Yellow Goat Design's copycats are failing the test.
"Be Original"
Yellow Goat Design is a proud member of the organization called "Be Original" which is committed to informing, educating, and influencing the design community on how to conduct themselves as a community. No community is happy or healthy without plenty of support and mutual respect and Be Original is an organization that helps us all remember the economic, ethical and environmental value of truly authentic design.
As creators of original design, we firmly believe in the value of authenticity, and that investing in original design is part of the fundamentals of good business. Isn't it ironic that the root of design is about creating new spaces, experiences and products and manufacturers in this industry do exactly the opposite? These companies grow and gain popularity by simply reproducing others' ideas without having to put in the creative work on the front end (no wonder they can come in at lower price points!). We must come together as a community and educate the designers, architects, owners and developers in order to stop this cycle of copycats. If not, it will have a negative impact over time on the future of creativity, originality and quality
Who Wore It Best?
Just like a celebrity's ensembles, one person's hit could be another person's miss (and land them on the pages of Fashion Police!). Yellow Goat Design is an industry leader and true artist because we know how to put the right fixture – the right design – in the right place, but the same can't be said for every other design company out there. Here we have a collection of side-by-side comparisons of our original designs and the cheap knock-off attempts by other companies in our industry. When it comes to these comparisons it is easy to see the difference between a shoddy installation and the high quality, properly lit work that Yellow Goat Design prides itself on. Check out our designs side-by-side with our copycats.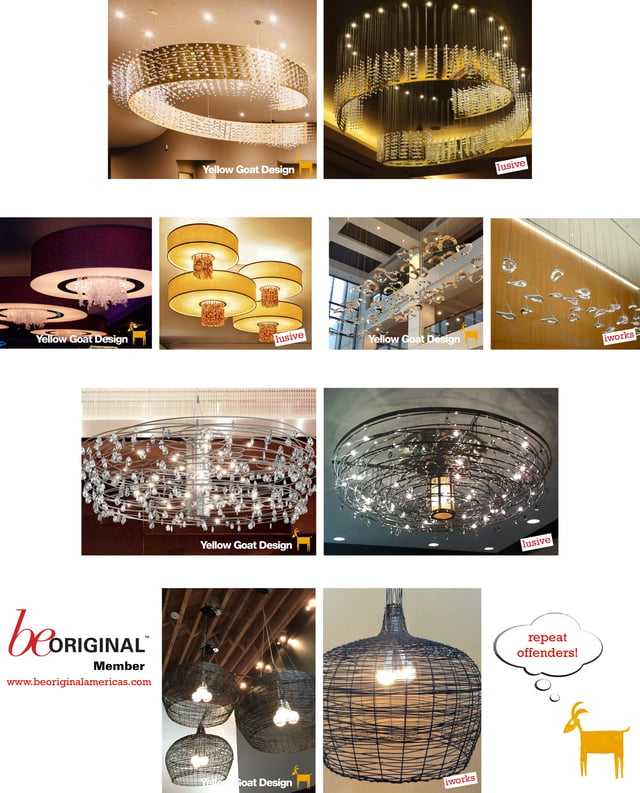 As you can see, the knock-offs look half-finished and flimsy. They also look very poorly lit - which, for lighting design companies - let's be real - is pretty much inexcusable. It just goes to show you can't settle for less when it comes to your project's interior design.
Often imitated, never duplicated, Yellow Goat's original designs are never watered down, half-done, nor cheaply made. Choose us to be your partners in your next project! Whether you need to shed some new light on your space, or just need a new look in your place, contact Yellow Goat Design so we can give you the best (and uncopiable) work in the world.