A Quick Guide to Quickship!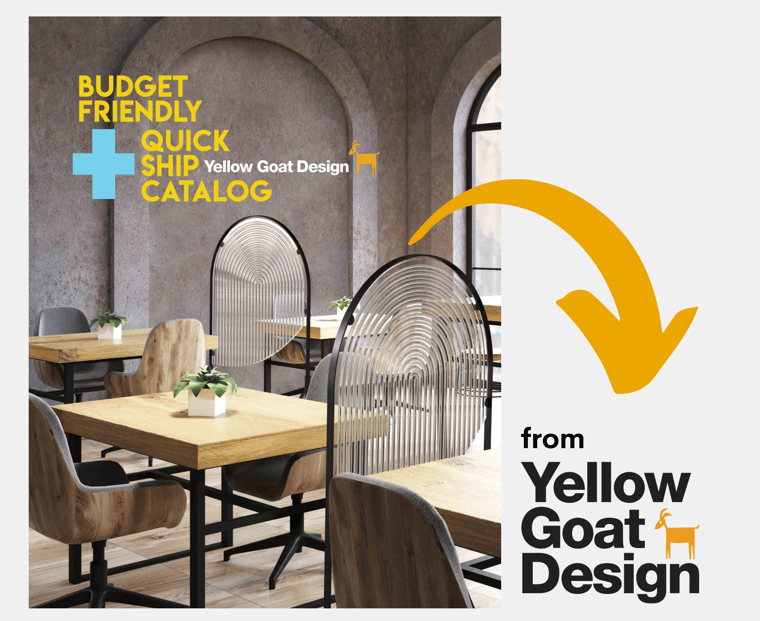 Introducing the new QUICKSHIP + BUDGET FRIENDLY catalog! This is a double whammy of a YGD catalog. Not only are these light fixtures and screens reasonably priced in tiers starting at under $1k, they are also available at an expedited 5 week lead time. What does this mean for you? LESS cost. LESS wait time. MORE awesome YGD product in your project. We'll call that a WIN, WIN, WIN.
See the details below and be sure to check all our options online or download the catalog now.
WHAT'S SO GREAT ABOUT BUDGET FRIENDLY + QUICKSHIP?
138 LIGHT FIXTURES - That's 138 potential chances to use Yellow Goat's amazing lights, screens or sculptural elements for your project. PLUS since we can customize anything to your specifications*, your possibilities are really endless! Lucky much?
11 SCREENS - Screens? In a budget friendly + quickship catalog?? That's right! 11 of our newest screens from our CONNECT - Safe Screen Collection are now available at BF prices and in 5 weeks! These options range from freestanding to desktop mounted to sliding and they all maintain YGD's commitment to extremely cool design.
BUDGET FRIENDLY PRICES - You want it! We got it! Budget Friendly prices from under $1k up to $10k. The tiered pricing helps you easily select something in your budget range and our full service design development team is ready and waiting to help should you need any adjustments to your fixture.
5 WEEK DELIVERY** - Need we say more? We are committed to working with fast paced and changing schedules. Once we receive signed shop drawings we'll produce your YGD piece lighting fast!
*Please note customization can result in additional cost or changes in pricing.
**Please note that the 5 week lead time begins AFTER receipt of approved of shop drawings.
READY TO START SHOPPING FOR YOUR YGD LOOK?
View the BUDGET FRIENDLY + QUICK SHIP options online here.
Can't find what you are looking for in BF + QUICKSHIP?
Try out regular BUDGET FRIENDLY options here.*

*These expanded options offer additional fixtures at BF prices. Please note, if the option you choose is not also available in the QUICKSHIP catalog, the lead time will be the standard 12 weeks for non-wicker pieces and 16 weeks for wicker pieces.
Questions? Contact us at sales (at) yellowgoatdesign (dot) com or 610.431.2512