CONNECT - A Safe Screen Collection from YGD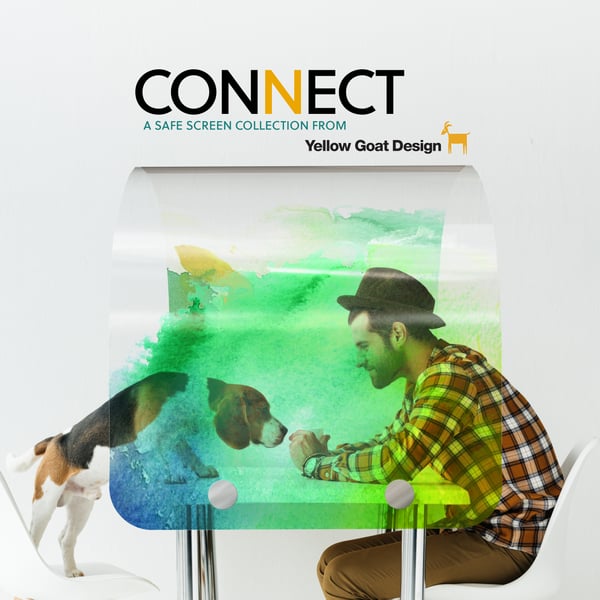 DESIGNED TO BRING US TOGETHER

Our current world is experiencing change unlike anything we've seen before. Changes in design, interaction and meaning have inspired Yellow Goat Design to work harder, be more creative and innovate. Resultantly, we are excited to present YGD's new Safe Screen Collection, CONNECT. This unique collection vocalizes artistry, beauty and functionality in a seamless presentation of functional safety artwork for hospitality, educational, institutional, corporate and other areas. Our new Safe Screen Collection serves to create confidence inspiring spaces with fluted acrylics, digital printed acrylic, laser cut, and polycarbonate screens that define physical distance, while also maintaining social communication through designs with humanity, hospitality, connection, and reduction of waste as the ultimate goals. These screens are easily customized for color, size, print to suit any space needed. Connect with our team today to learn more about each product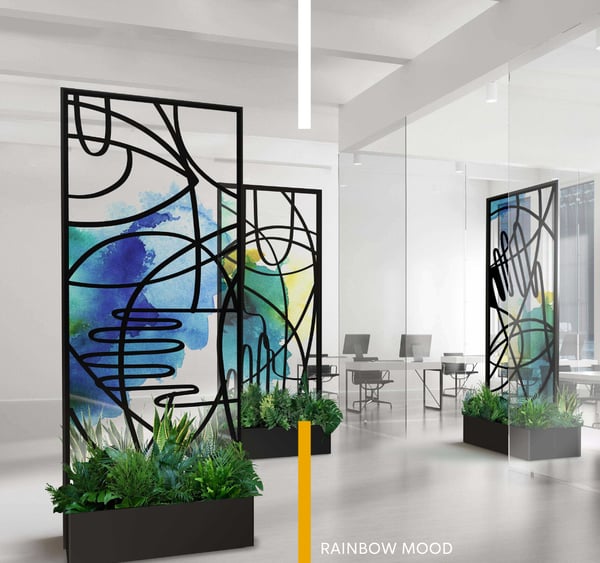 Rainbow Mood is a mindset. The design pot of gold at the end of the, well...you know. A bold mélange of laser cut metal faces, hands, and shapes enclose watercoloresque digitally printed acrylic panels. Get ready for your mood to improve with this eye-catching design. The version featured here showcases the panels with an additional planter base. Rainbow Mood is available with or without the planter base in a range of mounting options.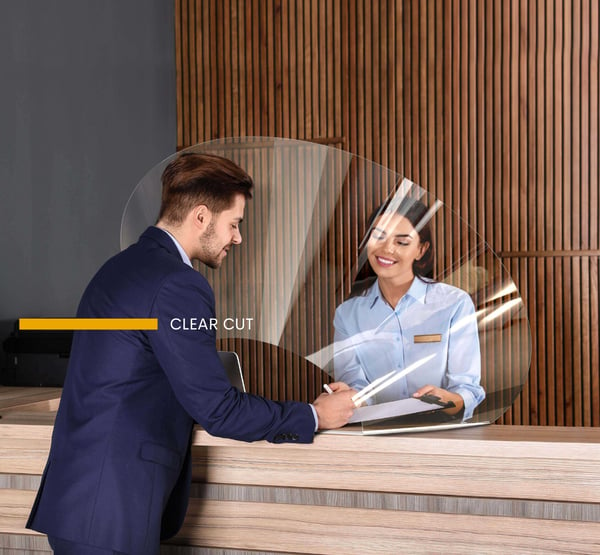 Clear Cut is a very traditional fuss-free screen to incorporate in hotspots for interaction such as the check-in desk of a hotel, doctor's office, cashier, or a concierge space.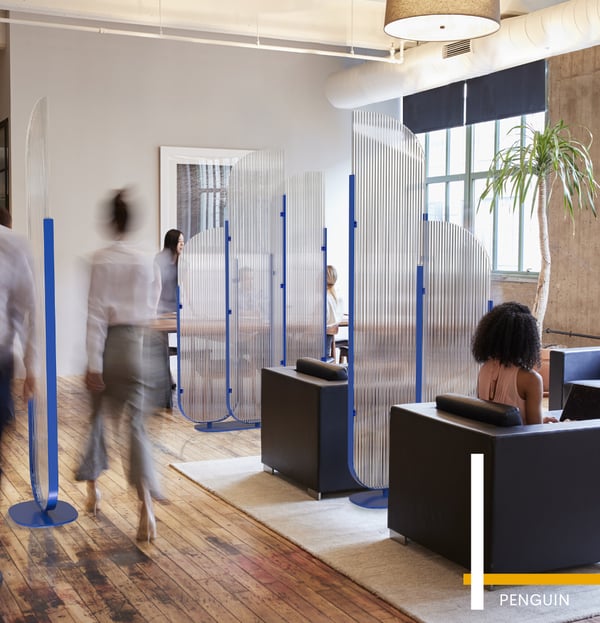 Albacore, Coho, and Penguin focus on more traditional standing screens using techniques like fluted acrylic panels (Penguin/Albacore) to create a high-end luxury Art Deco glass look (inspired by our Deco-ish light fixture) or incorporating metal framing to add interest to a traditional clear acrylic panel (Coho). Arctic Char incorporates a clever design that allows for extra plant display.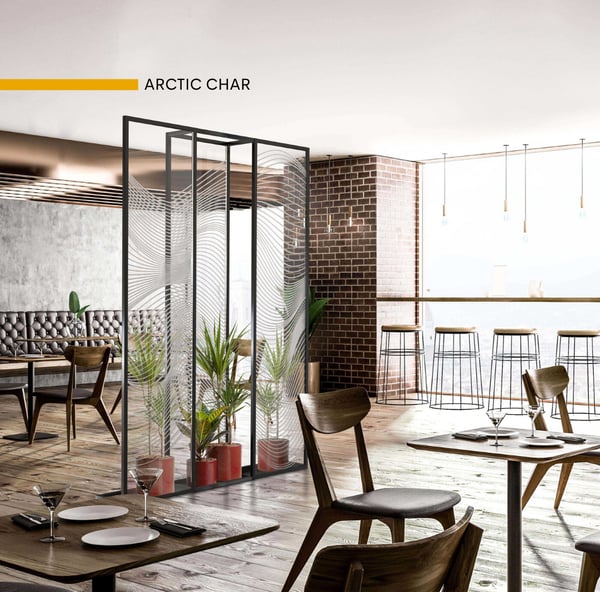 Our Bubble screens function as an intimate partition for workplace, dining or learning areas. They are digitally printed and shape to form around tables or solid spaces. They are equipped with adjustable clamps which make them adaptable to any situation.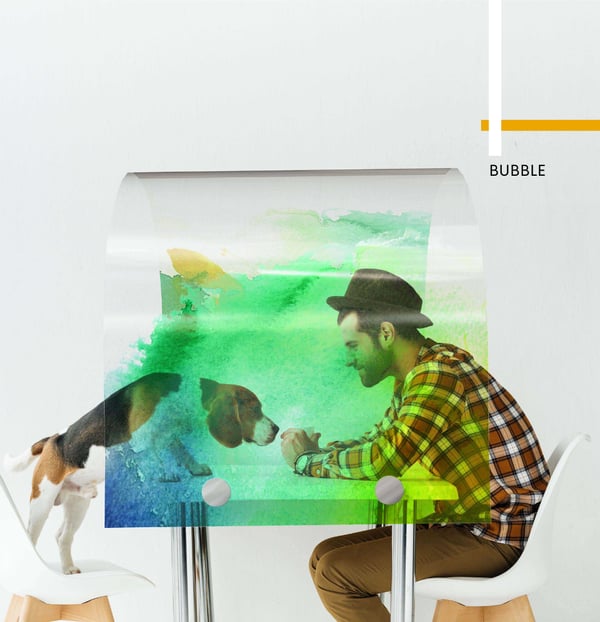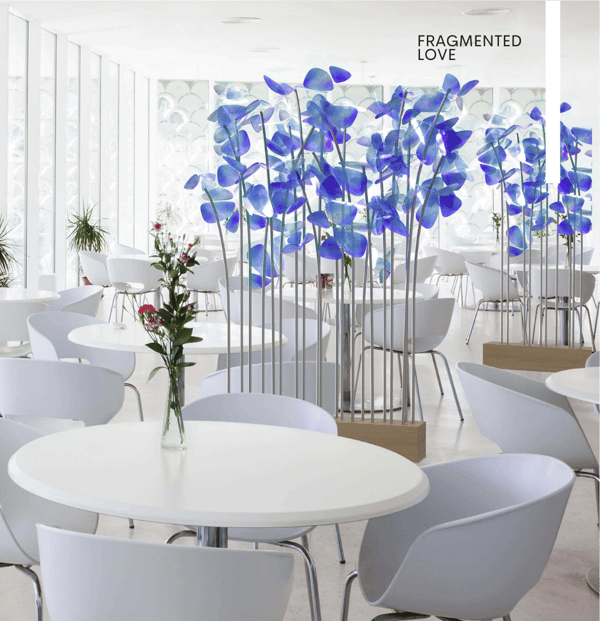 Love comes in all shapes and sizes but one thing is for certain, you'll love every piece of this screen. Mounted on a wooden base, metal rods shoot upwards and explode in a joyous burst of blooms. A hybrid of our Love Me Not sculptural screen and our Fragmented Illusion light fixture, Fragmented Love will break your design heart to pieces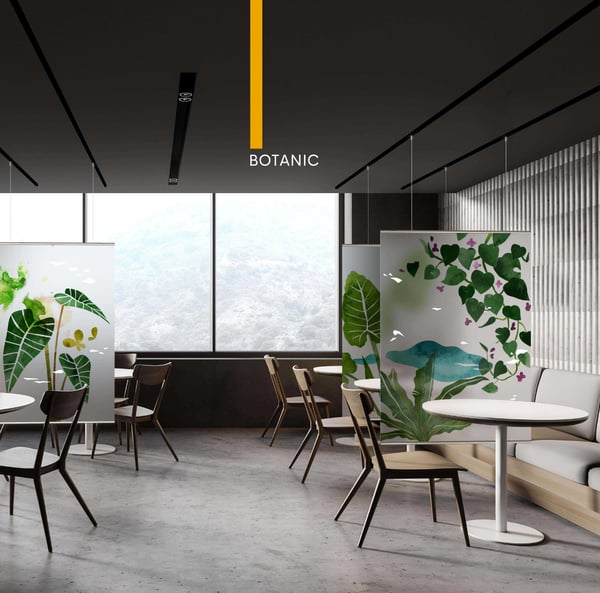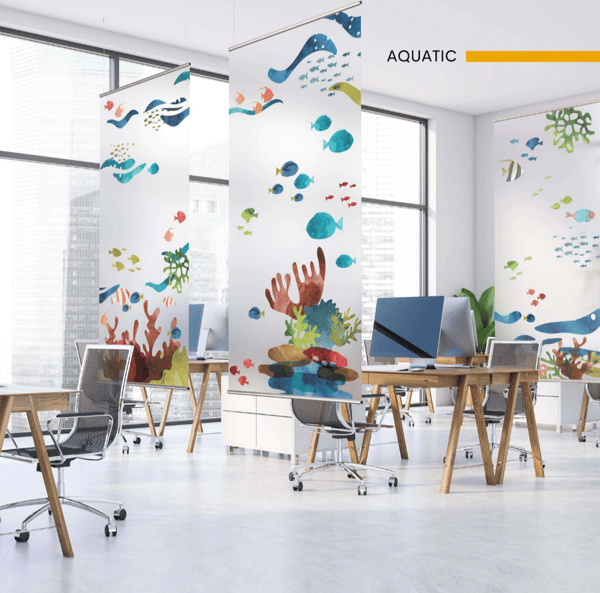 Digitally printed suspended screens like Aquatic and Botanic are customizable for height based on the needs of the space and focus on playful and peaceful mood-enhancing illustrative designs. They also use a misted panel that allows light to filter throughout the space and are ideal for restaurant, hospitality, workplace, or school spaces.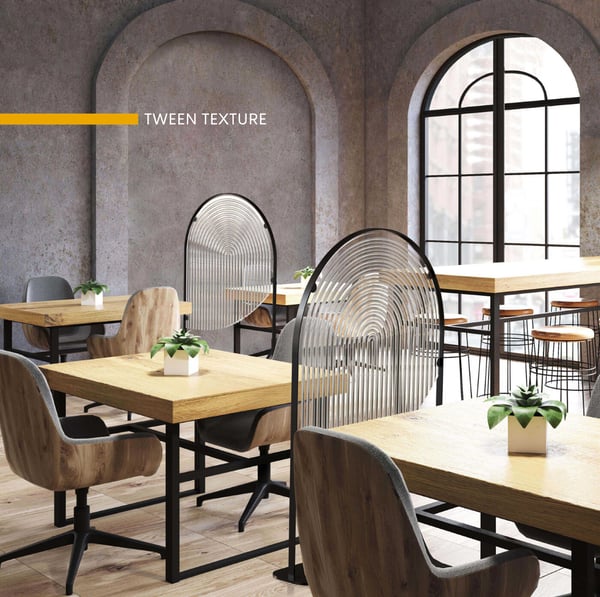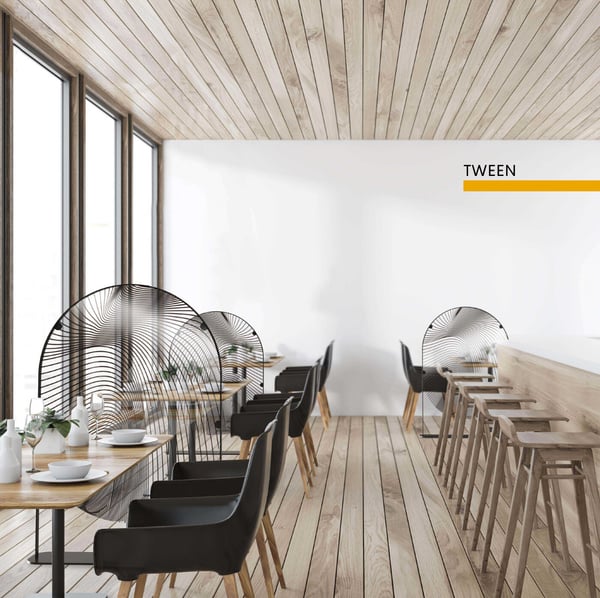 Tween and Tween Texture are scaled versions of large screens meant to wedge into tight spaces such as dining rooms or workspace areas. This screen comes in both a fluted acrylic option (Tween Texture) or a digitally printed acrylic option (Tween) that can be customized for color. Both are framed in metal that comes in a variety of finish options.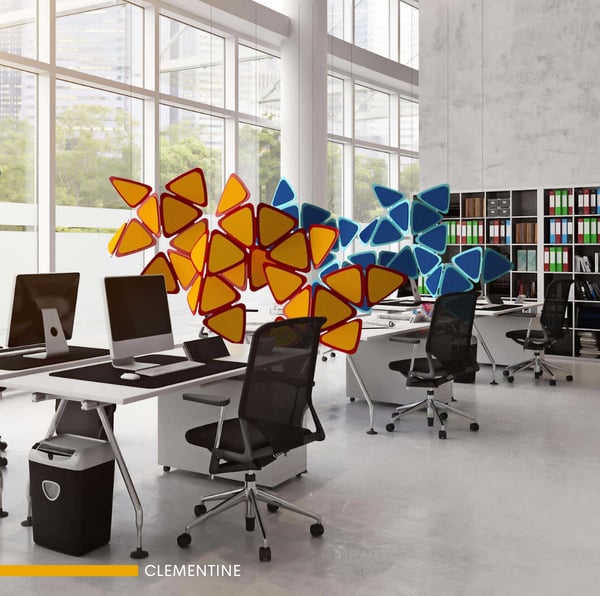 Clementine is a suspended sculptural screen that utilizes brightly colored sustainable, bacterial resistant Ezoboard that also has acoustic properties to reduce noise levels and interaction in workplaces. Pillar also has acoustic qualities and comes with an optional top cap to hold plants.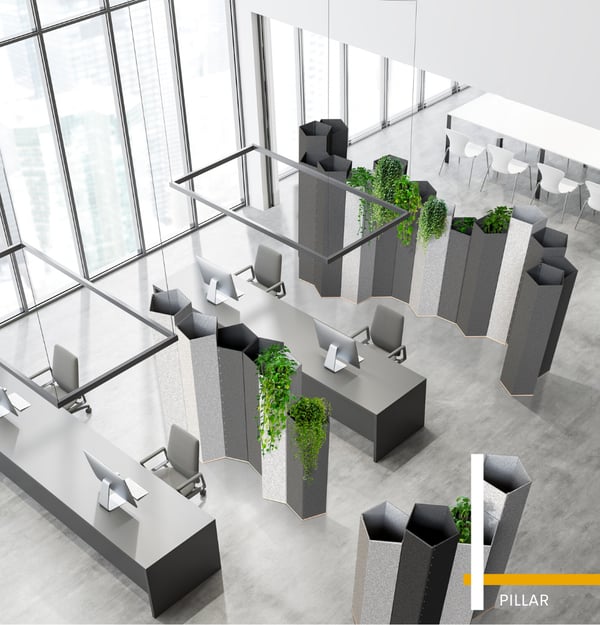 A rough and rugged look with an artistic edge, Aquarelle Bloom, is a textured take on our digitally printed Aquarelle screen. In this version digitally printed vinyl is applied to corrugated panels that are framed in metal.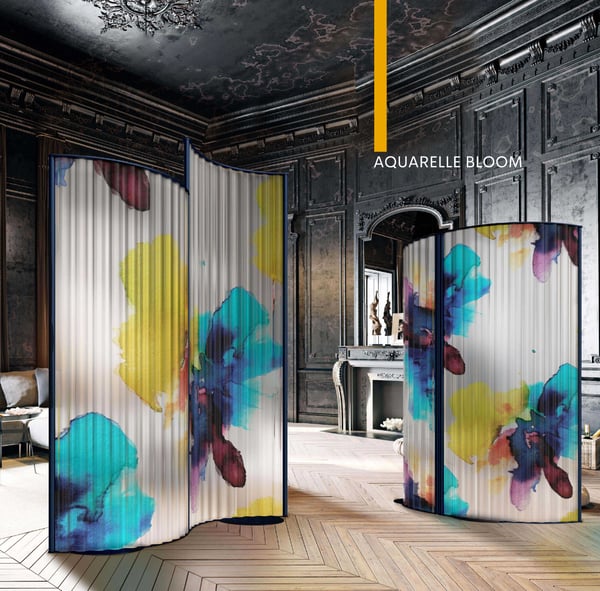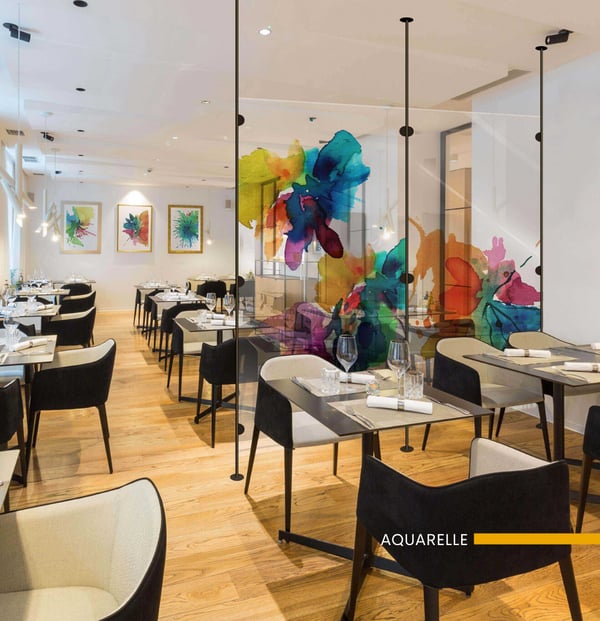 VISIT THE CONNECT COLLECTION PAGE TO SEE EVEN MORE SAFE SCREEN OPTIONS
HAVE MORE QUESTIONS OR WOULD LIKE A QUOTE? CONTACT US