The FUN-damentals of functional screens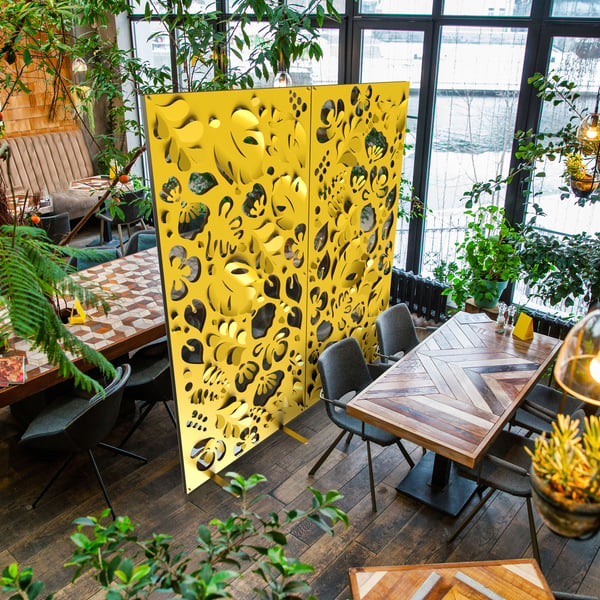 METAL SCREENS WITH ACRYLIC INLAY - THE SPROUTS SCREEN

YGD's screens refuse to let the functional brush aside form. While our world is changing, YGD's design philosophy is not - make it relevant, beautiful, and unique. 4 new designs showcase how you can use our acrylic and metal screens to create separated spaces while still defining great design. Above you'll see our Sprouts Screen forging new terrain in a dining area. A laser-cut pop of color with acrylic inlay means that customers can be protected in public areas while also keeping it visually interesting.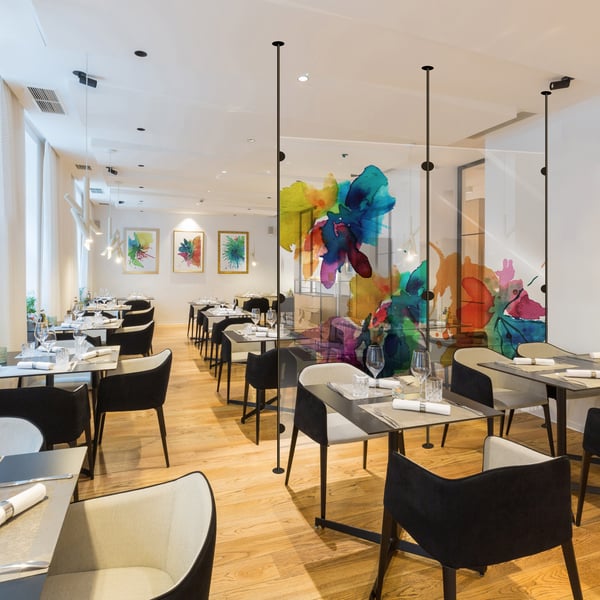 DIGITALLY PRINTED SCREENS - THE AQUARELLE
Dining out is now more of a science than an art but we still seek to capture a sense of space and beauty in separation. YGD's printed acrylic screens can offer a fully transparent or semitransparent look with a pattern or color of your choice. Shown here is our Aquarelle screen mounted on metal rods. Highly cleanable, YGD Screens can be used as moveable partitions in a variety of flexible options or they can be semi or permanently installed.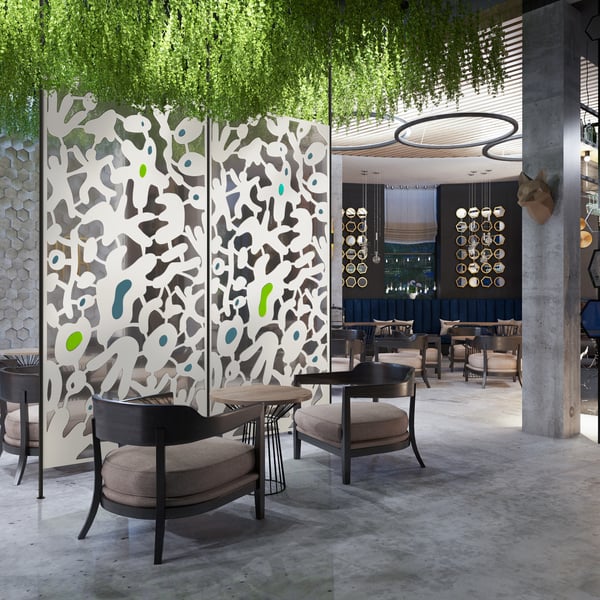 METAL SCREENS WITH ACRYLIC INLAY - THE SPRING IS HERE
Gathering spaces in hospitality tend to house some of the most unique designs. As new hotspots for increased social interaction, the considerations of cleanability and function come to the forefront. This won't stop us from keeping these functional elements looking as cool as they possibly can. Spring is Here fuses acrylic panels in various shades between a playful laser cut metal pattern of bursting blooms.
SCREEN FAQ'S
What are your screens made of?: Metal, wood, acrylic, Ezoboard, you name it! Our screens come in a variety of materials. Have something specific in mind? Don't hesitate to ask us to source it for you.
Can I customize the size or shape of my screen?: Yes! We can customize for size, shape, color, and even material.
How can I mount my screen? Can my screen move or roll on wheels?: Yes, our design team will walk you through the different mounting options available and best suited for your space
Can these screens help protect our customers against COVID-19? Is it easy to clean these screens?: We are very sensitive to the changing nature of the design environment and can incorporate elements into an existing or new design not only to help maintain social distance, but also be easily cleanable.
Can I choose my own pattern or logo to brand a screen for a specific use?: Yes! We can create custom patterns or logos on our lasercut screens to match your design or brand, just ask!
HAVE MORE QUESTIONS OR WOULD LIKE A QUOTE? CONTACT US
Want to see more SCREENS? Check out all of our screen options here!