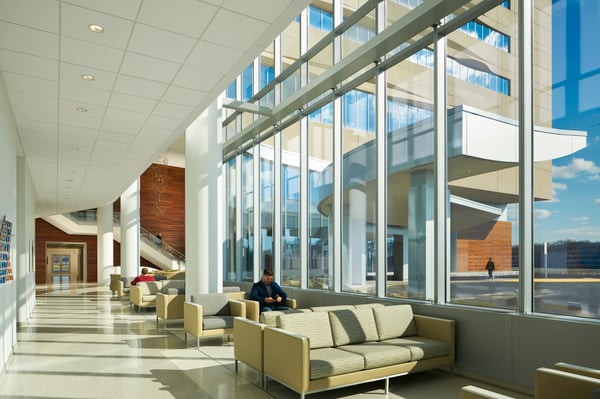 Healthcare has been front and center surrounding the COVID-19 pandemic. While functionality is of the utmost importance, the experiential aspect is also coming to the forefront. How do these spaces make us feel? How do they affect our mental health and stress levels? It our responsibility as designers to use lighting, screens, space planning, materials and research to create a positive experience for healthcare workers and patients alike.
What works? Lighting, at first entry point, is proven to alter moods and mindsets by defining initial perception and eliciting a positive emotional response. The use of soft colors, organic shapes and warm color temperatures transform healthcare spaces into warm and welcoming environments.
At Yellow Goat, we have had the opportunity to inspire through our lighting and sculptural designs in many award-winning healthcare projects shown below. By creating a higher plane of healthcare space design we can cultivate a sense of wellbeing both mentally and physically.
BAYHEALTH SUSSEX - Milford, DE
Design Partner: Cannon Design
Fixture: Spillage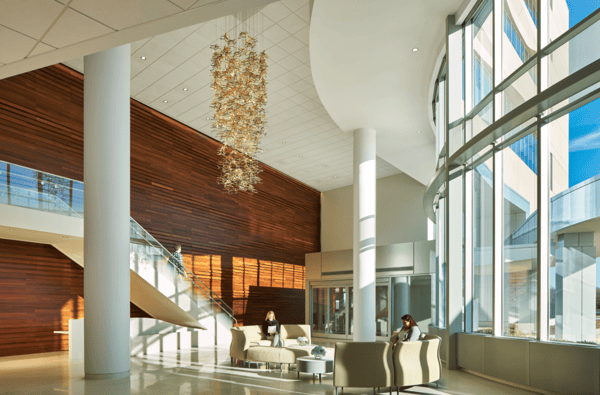 The 22-acre Bayhealth Sussex campus, designed by Cannon Design, incorporates warm woods and a neutral color palette with ample natural light to reflect off of Yellow Goat's Spillage fixture located in the entry. Inspired by Delaware's proximity to the ocean, this AIA and IDS Illumination Award winning space incorporates the best design elements of high-end healthcare. Spillage, built from gold polished aluminum elements, creates a welcome oasis for meditation and calm. Warm color temperature LEDs are scattered throughout to add a soothing glow in the evening hours.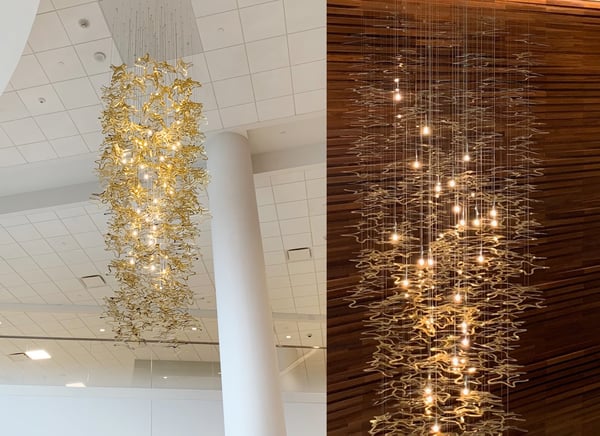 ADVENT HEALTH - Orlando, FL
Design Partner: Stantec
Fixture: Custom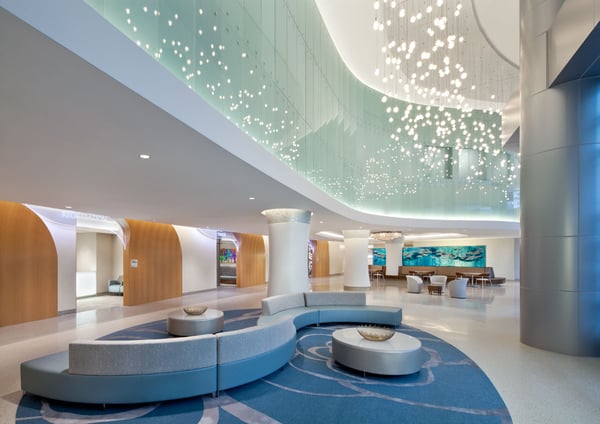 Advent Health (formerly Florida Hospital for Women) sets the bar for the ultimate modern hospital experience. Winner of the IIDA award (2016), AIA Built Award of Honor (Orlando Chapter) and the AIA Merit Award of Excellence (Orlando Chapter), this space focuses on providing women a top tier birthing experience. Yellow Goat collaborated with Stantec to design a sculptural light fixture in the entry, inspired by the aquatic waterways of Florida. The placement of each glass globe forms an undulating pattern that references ocean waves and provides an immediate sense of serenity upon entry.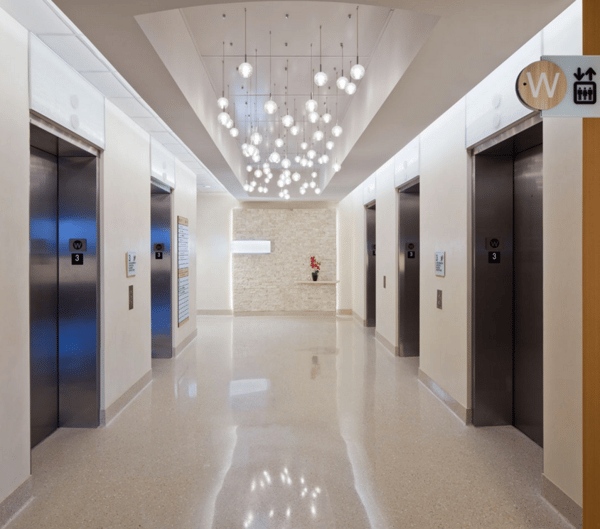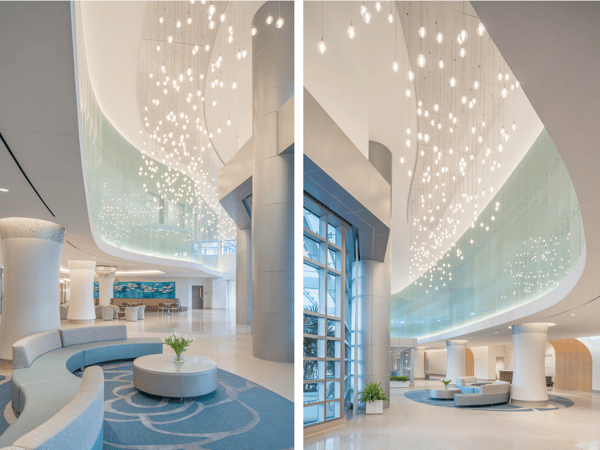 ST. FRANCIS GLENPOOL - Glenpool, OK
Design Partner: Miller Architects
Fixture: Ruby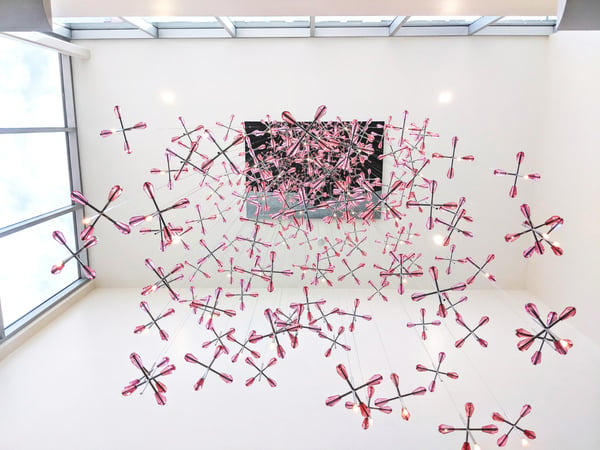 St. Francis Glenpool, a smaller scale clinic in the Tulsa, OK suburbs, answered the call for more comprehensive healthcare option in the area. Yellow Goat's elegant Ruby fixture is front and center to welcome patients and healthcare workers. YGD worked with Miller Architects to create a custom pink crystal that is a nod to the pink stone from the original hospital. The crystal refracts a band of soft light from the mirror ceiling plate above as well as the surrounding natural light in the atrium.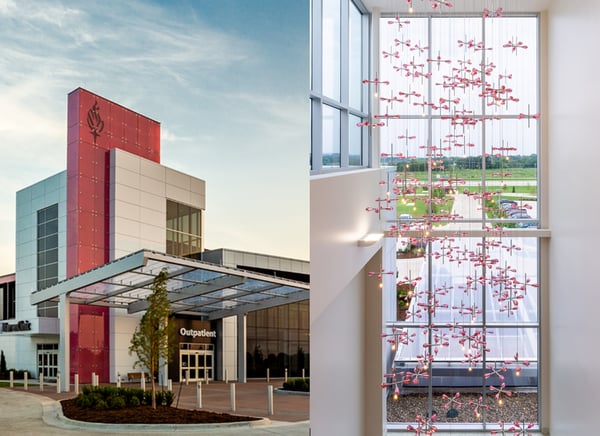 To see more inspiring projects, check out our website!

---
In the market for screens to provide social distancing?
Don't miss our new collection, CONNECT, which features screen and divider solutions that are cleanable, durable, flexible and beautiful!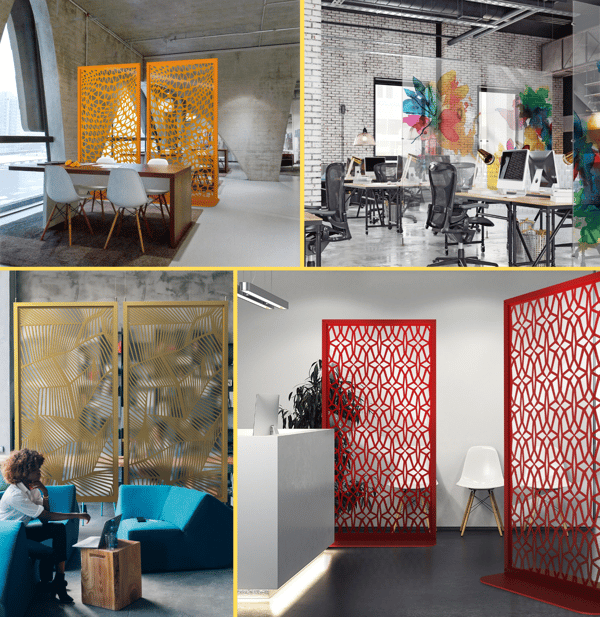 HAVE MORE QUESTIONS OR WOULD LIKE A QUOTE?