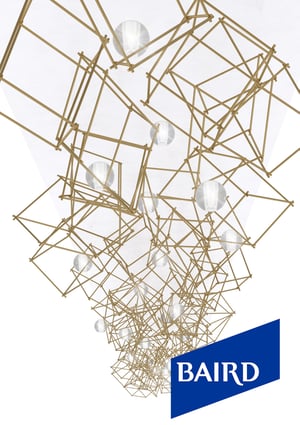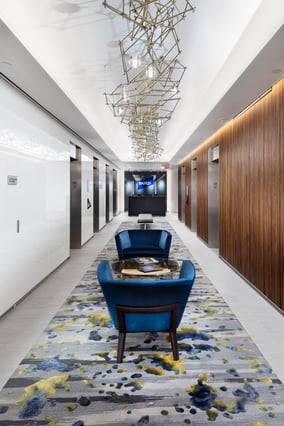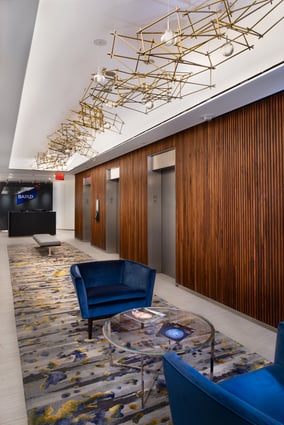 Project: Baird NY
Design Firm: Gensler NY
Light Fixture: CUSTOM PARALLELOGRAM CIRRUS by Yellow Goat Design
Managing money means being flexible so it's no wonder the shape of the parallelogram was used to reflect the adaptive culture of Baird Asset Management in NYC. It's also no surprise that Gensler NY was the design firm of choice for their tricky workplace lobby space. The unique length of the room required flexibility and a little ingenuity to create a piece that maintained Gensler's high design standards while also filling up the length of the room. Yellow Goat's custom Cirrus fixture is a key player in adapting to the demanding shape and also reflecting the client's key request that the fixture artistically reflect the parallelogram look of Baird's logo without being too literal. Gensler worked directly with YGD to fulfill both requests…

"We were inspired by the shape of our client's logo. We worked with Yellow Goat to develop abstracted shapes along with a tasteful touch of round pendant to add interest within the fixture."

Elements of gold were drawn from the rugs in the space to juxtapose with the rich blue hues of chair fabrics and the warm wood wall panels. A sleek design space was born from a wealth of design genius and the custom capabilities of YGD.
See more CIRRUS
Check out our Museum of the Dog project with Gensler NY
Want to see more incredible lobby spaces? Check out Making an Entrance